Are you looking for one of the best CRM for solar companies? Does your team find handling real-time solar sales projects challenging and wish there would be a better and more effective alternative tool to manage that?
Then look no further, as in this blog, we will be sharing the top handpicked customized CRM tools for your solar business that will help you boost your sales reps with no added stress.
So, what are we waiting for?
Let's dive into them!
Table of Contents
What is a solar CRM?
Even though solar power has an immense future in the US and has space for everyone, that is not sufficient. Building a strong customer relationship is the foundation of any business, and the solar industry is no longer an exception.
As they say, "Great customer relationships turn into loyal customers and knock more business on your doors".
Customer Relationship Management, or CRM software, provides a centralized system for solar installers to manage their entire workflow, from consistently interacting with customers to following up on leads and referrals to keeping track of sales.
This results in overall increased productivity while also ensuring that you never miss out on any potential sales.
Benefits of using a solar CRM for your solar business
Improves customer engagement and management
As a growing company, it is hard to acquire new customers and even harder to convert them into paying clients, which is why it becomes imperative to keep track of your customer's data and your interactions with them during the whole process.
With a solar CRM, you can seamlessly transition the entered data, such as the number of on-site visits or the status of a solar contract, to your field operators and the entire team so that there is no conflicting information and that they can access it easily.
Aids in boosting profitability
Another key benefit of incorporating CRM into your business is that it helps close more deals and increases profitability.
The CRM software lets you keep track of every single sales follow-up and the performance of your sales funnel. This helps you understand where you are lacking and why all your efforts are going in vain. This way, you can mold your solar sales strategy to bring out the most benefits.
Saves time with a centralized system and zero redundancy
Effectiveness in the solar business is measured by identifying and solving issues such as data redundancy, disconnected communication, no streamlining of manual work, time-consuming tasks, and spending on unused resources.
The modern CRM helps you in working those areas, resulting in efficient management of all resources, saving time, lowering project costs, and scaling up the entire solar operation to make your project a success.
Amplifies operational productivity with automation
Due to the complexity of the solar installation industry, a well-organized workforce is needed to streamline operations. And this is where the role of modern CRMs with solar project solutions comes into play.
These CRM tools put the entire solar project on autopilot and help connect the entire solar team of your project, whether it be the on-site technicians, the sales staff during calls, or the office staff during the real-time implementation.
As a result, it improves the overall operational productivity of your solar team and also increases the amount of traffic coming through your doors.
Do you want to optimize your solar project and pour more sales into your pipeline? Then, read the 5 Best Practices for Solar Lead Follow-Up and Conversion.
Key considerations when choosing a CRM for your solar business
Knowing what kind of CRM your solar company should go with is important to further understand the comparison of different CRMs (which we will discuss in the coming section) and choose the right one for you.
During the entire 25-year solar relationship, the company hardly gets to interact with the customer for more than 3-4 months. So, what is the turning factor?
That short period of interaction. It is a critical element that decides whether they will convert into your loyal clients or not.
The nature of the engagement during the customer acquisition and the PV panel installation is driven by the cultural thought process, urgency, on-site personalization, advancement in technical innovation, and how well you are able to deliver on their needs.
So, to ensure that your CRM is capable of fulfilling all the above criteria, the following are the criteria to consider when choosing the best CRM as a solar installer:
Focus on core functionality
In the market, solar CRMs come in different forms of cloud-based solutions, such as sales, marketing, and accounting. So, identify the core area of your business. Do you recognize your business as a sales, service, or marketing business" or a combination of these? And then, select the solar CRM accordingly.
Automation
Always go with the CRMs that come with time-saving auto-pilot features that will help you automate your mundane sales and operational tasks.
Integration with third-party software
If possible, go with CRMs that allow the integration of external software that is used within your company. It will make streamlining tasks easier.
Scalable
Scalability is another key aspect to consider. In the initial phase, your solar requirements will be met with the basic features, but down the road, as your company grows, your needs as the solar installer will also grow. Thus, always look for a CRM that is scalable.
Best CRM for solar Companies
With a plethora of options available in the market, it is tricky to find the best CRM that can provide the core functionalities at competitive prices, and grow your solar business.
But don't worry. We have narrowed down the best ones for you that will unify your operational tasks and solar sales reps. These are as follows in no particular order:
Zoho CRM
Zoho CRM is not only our number one pick of the best solar CRMs but also of the 250,000 global businesses of all sizes that have leveraged its world-class services and are stunned by the remarkable growth of their businesses.
The software provides state-of-the-art features that will help you build long-lasting harmonious relationships with your customers in no time by automating operations, campaigns, data management, and real-time analytics.
With a single dedicated admin dashboard, omnichannel communication, and seamless customization by ZOHO, you can get the most out of it and multiply your revenue.
Why choose ZOHO CRM?
The following are the reasons that make ZOHO a sought-after CRM for solar installers:
Real-time, in-depth analytics: Zoho CRM comes with in-built real-time analytics that will help you make mindful decisions and thus help you stay on top of your performance.
Omnichannel: With ZOHO CRM's omnichannel presence, you can stay connected with the incoming solar leads from all the platforms, including email, phone calls, live chat, social media platforms like Facebook or Twitter, portals, and more, under one roof.
Integration with 800+ apps: Now, you no longer need to worry whether your CRM will be compatible with the external software your company is working with. The ZOHO marketplace provides over 800 apps, including lead management, payment gateways, barcode scanners, and many more, that, needless to say, work seamlessly with the ZOHO CRM.
Zero hidden costs: You won't find any nickel-and-dime features so that you can sit back, relax, and shift your entire focus on your business.
Workflow automation: The CRM offers AI intelligence with its in-built AI assistant, Zia, that provides accurate predictions and helps in analyzing your graph. Moreover, you can automate all your sales routines, from sending mail to customer follow-ups at a specific date, which reduces your workload.
Contact Management: Zoho CRM provides your business the flexibility of integrating your top 50 preferred contacts in one place and including all their information, such as name, contact details, and more, so that you never miss out on any important prospects.
Pricing:
In addition to the free trial, you can go with the following ZOHO CRM premium plans for scaling your solar company operations:
Standard: $14 per user per month billed annually.
Professional: $23 per user per month billed annually.
Enterprise: $40 per user per month billed annually.
Ultimate: $52 per user per month billed annually.
You can save 34% more by subscribing to yearly plans.
HubSpot CRM
HubSpot CRM is another excellent and popular choice among solar installers. From managing up to 1,000,000 contacts in one place to providing a real-time view of your sales report, incorporating a live chat system, pipeline management, and much more, this solar CRM has something for everyone.
If you have just started out in the solar installation industry, you can always go with its free plans, which cover all the basic features required for your business. And if you have already built a decent clientele, you can always go with its premium plans, which we are sure you won't regret.
Why choose HubSpot CRM?
The following are the reasons that make HubSpot a sought-after CRM for solar installers:
Sales Hub: Unlock all your sales superpowers by bringing down all the applications, tools, and data in one place, getting rid of all the conflicting information, and focusing only on what matters: your solar prospects.
Some of the powerful features that it offers include the ability to personalize and optimize email templates, track your emails and calls, build resourceful sales content track which content closes more deals, and automate your entire sales workflow.
Pricing:
In addition to its 14-day free trial, you can go with the following Sales Hub premium plans for scaling your solar company operations:
Starter: $45 per month.
Professional: $450 per month.
Enterprise: $1200 per month.
Marketing Hub: With the growing marketing channels and disparate systems, it's hard to connect with all the solar prospects in one place.
But thanks to the Marketing Hub, which provides effective tools such as a website form builder, live chats with targeted welcome messages, intervention with Salesforce, automation, and many more, you can sync with your customers, build deeper connections with them, and drive your solar business revenue.
In addition to its 14-day free trial, you can go with the following Marketing Hub premium plans for scaling your solar company operations:
Starter: $45 per month.
Professional: $800 per month.
Enterprise: $3600 per month.
Robust customer support: In case of any doubt or issue, you can reach HubSport's award-winning customer assistance team 24 hours a day via email, chatbot, or even phone call.
Spotio CRM
With a 23% growth in sales revenue, Spotio is considered one of the preferred CRM tools for growing solar companies. The reason is simple. The software focuses solely on sales engagement, which is why it is also considered the number one sales engagement software.
Zillions of solar installers have taken advantage of Spotio's leverage and have observed significant growth in their prospects gain and overall revenues.
The software gives your solar representative everything from real-time field activity insights to automatically updating crucial sales data in CRM to keeping all appointments and leads organized in one place.
Why choose Spotio CRM?
The following are the reasons that make Spotio a sought-after CRM for solar installers:
Task Automation: Boosts your solar reps productivity by 46% with effortless auto-logging, using pre-designed templates for emails, calls, and messages, and automating the capture of CRM data. Also, you can keep clear track of the sales so that all the team members stay on the same page.
Activity Management: Tracks sales activities with multiple-channel communication and gets an exact idea of what's happening in the field.
Sales Territory Mapping: Divide the prospect territories among the solar reps using the zip codes so that no two sales employees end up visiting the same customer. Moreover, for better spotting leads on the map, you can colorize locations.
Sales Prospecting: For B2B and B2C solar companies, the CRM helps them get their hands on only qualified prospects. So, no more time wasted on bad leads. Also, your solar sales staff can book and manage the appointments directly from the CRM.
Integration with 2000+ apps: Via Zapier, you can now connect Spotio to more than 2000 famous apps, including SAP, Oracle NetSuite, Salesforce, Gmail, and many more.
Pricing:
It does not matter how small or big your solar business is; the Spotio CRM has plans to fit everyone's needs, which are as follows:
B2C plan for solar panel installers to provide residential solar services Click here to see the pricing.
B2B plan for maximizing the performance of hybrid teams that are managing sales prospects and accounts Click here to see the pricing.
Engagement bundle plan for more premium features. Click here to see the pricing.
Scoop CRM
Scoop is a dedicated solar and renewable projects-based CRM software that has already benefited more than 125,000 clients worldwide. The CRM works in a very simplistic manner and has a very user-friendly interface, so your busy solar reps don't need to invest additional time in understanding how it works.
Within one piece of software, Scoop CRM helps solar businesses streamline their workflows, automate tasks and data, and connect the tools so as to boost their overall productivity and aid in closing more deals faster.
Why choose Scoop Solar CRM?
The following are the reasons that make Scoop a sought-after CRM for solar installers:
Simplified project management: Scoop's CRM makes it easy and simplified for residential solar companies to manage projects, on-site visits, and the installation process. For instance, its smart forms and checklist factors ensure that all data is collected in one place, while its work apps let you implement best practices within your company.
Boost the field and office teams' productivity: The CRM helps in coordinating among the field operators, technicians, and office team by providing consistent real-time stats and an on-the-go calendar.
Reduce management challenges with work automation: Spotio ensures that your team doesn't waste their time on manual entries and checking redundant data with their automated work feature that auto-populates all the details, including client follow-ups and on-site photos throughout the solar project.
Improve performance with software integration: With the GLOO integration feature within the CRM, your sales team no longer has to waste more time locating crucial data. Use this integrated software to interact with other tools, such as accounting or others, to make work easier for you.
Followed data collection best practices: For a solar installer, it is crucial to collect all the significant data and cross-examine the steps before you send your team for panel installation. And Spotio's Job Hazard Analysis and Conditional Display Rules ensure all those measures.
Get real-time project reports: Spotio CRM comes with an integrated analytical tool, Looxy, that provides real-time project reports that can be easily circulated across your team so that all of them remain on the same page. You can further select from multiple metrics such as project types by sales, funnel performance, warranty period, and more.
Pricing:
The Spotio CRM provides plans for small, medium, and big solar businesses with unlimited storage and users so that you can focus more on your team and less on buying more data for your solar projects.Also, they haven't mentioned the direct pricing plans on their site, so to receive CRM quotes, either fill out the form or get pricing in the DM.
Monday Sales CRM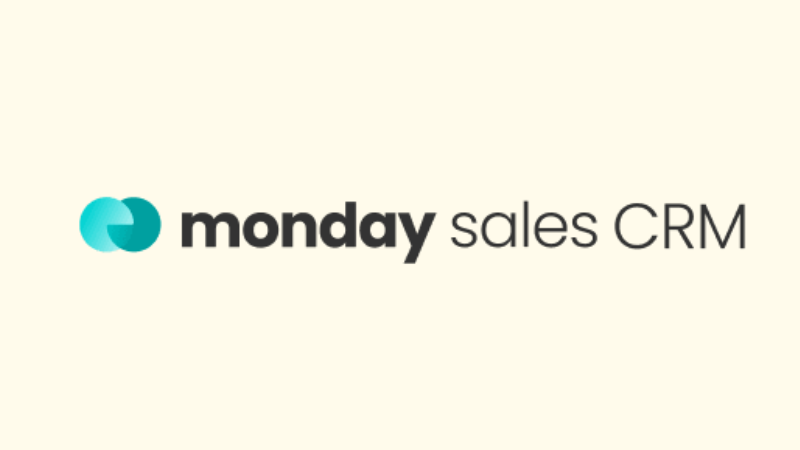 If you are looking for a simple and easy-to-use CRM, then Monday Sales is a suitable option for your solar business. The CRM is trusted by more than 180,000 customers worldwide, including Uber, Genpact, Frontier, and many others.
It comes with a fully customizable template design to meet everyone's needs. One can add as many deal stages or columns as one wants and handle multiple sales pipelines in one place.
Some of the other potential key features of Monday CRM that can help you bossy your solar sales reps are work automation, centralized customer communication, integrations with the 150+ widely used apps that your company is already using, and a lot more.
Why choose Monday Sales CRM?
The following are the reasons that make Monday Sales a sought-after CRM for solar installers:
Organize all your data in one place: Bring all your new and existing solar leads and account details into your CRM on Monday to enhance its functionality. Moreover, the software makes an alert sound every time a duplicate entry is made.
Monitor your pipeline and team's performance: With the advanced customizable dashboards, sales forecasting reports, and consistent activity tracking, you can keep tabs on your sales progress and the overall project's performance.
Centralized customer communication: Send personalized emails to prospects in bulk and also keep your mail sources, such as Gmail and Outlook, in sync automatically so that you know when they open your email and you can interact with them immediately.
Access your CRM from anywhere: Seamlessly access and manage all your call logs, contacts, and emails from your mobile device and close deals faster.
No-code automation: Lets you create your own automation space that steals your selling time. For instance, notify me when a solar sales rep opens your email or when some prospect's region changes.
Pricing:
In addition to the free trial with unlimited contacts, you can go with the following Monday Sales CRM for scaling your solar company operations:
Basic CRM: $10 seat /month, which works best for organizing teams, prospects, and referrals.
Standard CRM: $14 seat /month, which works best for automating and streamlining the sales process.
Pro CRM: $27 per seat /month, which works best for getting hands on the sales forecasting report.
For the Enterprise CRM plan, contact their sales team, which works best for managing the entire customer's journey on an enterprise level.
You can save more by subscribing to the yearly plan.
Solar Graf CRM for Solar Installers
Solar Graf is another one of the best CRMs that is specifically designed with solar installers and suppliers in mind in order to provide them with the best solutions.
The software comes with a number of potential features, such as easy project and team management, an auto pitch algorithm, a virtual site assessment feature, customizable proposals, and many more, to ensure that your sales team gets everything they need to make their project a success under one roof.
With their user-friendly and powerful integrated solutions, the CRM ensures your team's overall productivity throughout the software.
Why choose Solar Graf CRM?
The following are the reasons that make Solar Graf a sought-after CRM for solar installers:
Easy team and task management: Give custom access across the software to your team members that they need and none that they don't. Also, the CRM comes with a dedicated dashboard that gives you an eagle's eye view of everything happening in your project, which makes task handling easy.
Beautiful pro quotes: The software provides beautiful pre-designed, customized quotes for your solar project. These proposals are eye-catching and are designed using the shading analysis technique backed by Google Sunroof.
Moreover, you can get the mount type, roof pitch, and roof angle with the aid of the integrated autopitch algorithm. So, choose and get the best view from Google Maps, Bing Maps, Nearmap, or Eagleview HD imagery. And if you don't have time to design one, you can order one as part of their service.
Post-Sale Assistance: The software provides great assistance to solar installers in their post-sale operations with its virtual site assistance feature. Now your team gets everything they need for approvals and can also provide customers with multiple financing partners, including Service Finance, Mosaic, GoodLeap, Dividend, and Greensky.
E-sign with DocuSign support: With the help of this CRM, you can send e-signed customer proposals, legally binding DocuSign agreements, and panel quotations directly from your Solar Graf account.
Integrated battery design tool: This is new. Unlike other CRMs, Solar Graf lets solar installers design and optimize their battery storage components and send them to customers as part of their proposals or quotations. The software supports a couple of leading manufacturers, including Enphase, Tesla, and eight others.
To learn more about solar component design, check out these 10 Best Solar Panel Design Software in 2023.
Pricing:
In addition to the demo, you can go with the following Solar Graf premium plans for scaling your solar company operations:
Starter Pack: $229/month or save -30% on an annual subscription.
Small Business Edition: $345/month or save -30% on an annual subscription.
Teams Edition: $459/month or save -30% on an annual subscription.
Enterprise: Request pricing
Pipedrive Solar CRM
With 3000+ positive ratings and reviews from renowned sources like Gartner, Capterra, and others, Pipedrive is the next best free CRM choice for solar companies.
This CRM is particularly designed for sales-oriented projects and has divided the entire process into four steps: setting up the pipeline stages, focusing on sales actions, monitoring sales goals, and using analytics to optimize and grow your sales.
In this four-step process, Pipedrive CRM helps solar businesses in:
First designing a personalized sales template according to their style of work.
Then, shift their focus entirely towards sales actions such as setting up a meeting with the customer or attending them over a phone call, meeting, or other means.
Next, calculate the average conversion rate so that you know how many more leads you need to catch up with to meet your sales targets.
Finally, with the aid of automation and real-time analytics, more time can be spent strategizing winning goals.
Why choose Pipedrive CRM?
The following are the reasons that make Pipedrive a sought-after CRM for solar installers:
Mobile app integrations: Access the Pipedrive CRM from your mobile device, integrate your favorite sales app with the software, and use it from anywhere.
Manage solar leads: Pour more and more solar leads into your sales funnel with the round-the-clock live chat system and website contact forms and manage them in one place.
Automate your workflows: Eliminate redundant tasks with the help of automation and in-built AI and utilize this time in other areas of your solar project.
Get daily insights: With the daily insightful reports of your business, you can track your performance and mold sales techniques to meet sales targets.
Full transparency: Track every single sales activity, including calls, emails, and follow-ups, and have control over every move. This will save you from missing out on any prospects.
Pricing:Pour more solar leads into your sales funnel and close them as early as possible (30 days, as the company itself claims) with their free plan.
Final Words
Whether you have just started out in the solar industry or have been here for quite a while, using solar CRM software is the best decision you can make in order to make your business grow.
All the aforementioned software provides around-the-clock assistance with powerful features, including real-time project reports, workflow automation, easy task handling, consistent coordination across your team, time management, and many more, to make sure that your company is one step ahead of the previous days.
We understand that transitioning from traditional software to modern CRMs can be challenging at first, but the investment is worth it if you look at the long-term results.So, implement solar CRM in your solar business today and reap the benefits in the form of better service providers and increased solar leads in the future.