Do you know only 2% of leads convert into actual sales at the first point of contact? This means if you are not taking the solar lead follow-ups, you are already missing 98% of your potential clients.
Massive, right?
The US solar energy industry is a booming market, and there is already so much heat between solar companies. Both emerging and existing businesses are aggressively competing for solar leads to earning healthy margins. Moreover, with a strong social media presence, customers are now more aware than ever before. In such scenarios, your one wrong move or ignorance will put you in the backseat of the car. And we are sure you won't like it.
Therefore, it is crucial to understand customer psychology and the right techniques of follow-ups so that you can convert more and more solar leads into sure-fire conversions and boost the revenue of your company.
In this comprehensive guide to solar lead follow-ups and conversions, we will cover the major challenges solar companies face and the methodologies to help your lead generation team make more outbound solar sales.
So, without further ado, let's get started!
Table of Contents
What are the challenges faced by solar companies?
Before we jump onto the importance and practices of lead follow-ups, it is important to get acquainted with the core behind-the-scenes challenges faced by solar marketers in order to convert solar leads. And these are as follows:
Fierce competition between a small pool of qualified solar customers.
The ever-changing rules and regulations in the solar marketplace.
Not taking the follow-up lead strategy in the right direction by your on-ground sales staff.
These aforementioned areas are the key obstacles that can stop you from achieving your solar sales milestone. However, with the right techniques and methodologies, you can overcome all these hurdles.
Having said that, let's move on to the third major solar sales challenge, which is lead follow-up.
The importance of lead follow-up and conversion in the solar business!
When it comes to generating sales in the solar business, it is all about how strategically your salespeople follow up with prospective solar leads. We call it "The Power of Follow-Ups.".
It has often been observed that salespeople frequently neglect to follow up with potential clients due to rejection of fear, a lack of customer interest in the services, or a preference for a future scenario.
According to the IRC sales report, only 8% of salespeople take follow-ups more than five times, and 44% of sales staff give up after the first attempt. And this attitude is too toxic for your business.
Irrespective of the results you are getting, you must try to integrate the follow-up strategy into your sales methodology.
Didn't get it?
Ok, let me understand you with some stats, then.
You already know that when you first approach the customer, the chances of conversion into final sales are 2%. But do you know the same number increases to 80% when you take the follow-up the fifth time or, like, the 10th time?
Now, multiply this number by the number of clients, and imagine how much money you are losing in total.
But don't be sad.
Have you heard the "Better late than never" psychology? Well, that applies in every sector, including the solar business.
Here, we are going to share the best lead follow-up practices, by following which you can optimize your sales funnel and increase your solar panel conversions.
How to take follow-ups like a pro and generate more solar sales?
Following up with your potential solar client is more of a combination of art and science and less of some pre-noticed stats. It's tricky because you are reaching out to your customer with your services, where you don't have to look so pushy, and at the same time, you need to convert sales. Thus, the more you practice it, the better you get at it.
Here's our idea of an ideal follow-up approach:
One, if you have never interacted with your solar customer before, you can go up to a maximum of six times for follow-up.
Second, if you have already had some sort of interaction, take the next follow-up at the given time with your customer. Let's say they tell you they need a week; you can ping them after 7 days. Or if they say they are busy, you can ask them for a good time when you can reconnect with them. Just don't stop until you get a response.
Here is the general lead follow-up rule followed by the vast majority of companies:
Day 1: Take your first follow-up after 2 days.
Day 3: Take your first follow-up after 4 days.
Day 7: Take your first follow-up after 7 days.
Day 14: Take your first follow-up after 14 days.
Day 28: Take your first follow-up after 30 days.
Still, didn't I get any response? Start following up with your prospect once a month.
Also, remember that these sequences give you a reflection of how successfully your solar lead follow-up strategy is working. You can monitor the progress and adjust the intervals as per your requirements.
Best practices for solar sales follow-ups and conversions
Prompt response time
As much as it is important to take a follow-up, it is even more important in how much interval it has been taken care of.
When a lead is not touched, its quality decreases every minute. As previously stated, the initial follow-up must be conducted no later than 48 hours after your initial correspondence.
Make one or two calls over the course of the following two days if you can't get through. In order to establish the first contact, top-performing call centers frequently make five calls during the initial three days and an average of seven calls during the initial two weeks.
But why are we focusing too much on the prompt response time? What importance does it hold from the customer's point of view? And also what it can bring to your business?
Well, to answer your question, a quick response time, be it via mail, phone, or texting, can make all the difference. Here is how:
Represents how courteous you are towards your customers: Working on a sales team, you must know how frustrating it can be to not get a response on time. Now multiply this intensity by n in the case of customers. If they are not responded to timely, they will go to your competitor's solar company for the services, and ultimately you will miss one of your potential clients.
Boost your brand credibility: Your brand reputation is what you've all been working for. But if we say that out of all the efforts you are putting into it, giving a quick response to your customers can boost the credibility of your brand in the market. That's true!
Customers are highly likely to approach companies that value their time and money. This is one of the easiest and most cost-effective ways to do that.
Personalize your follow-ups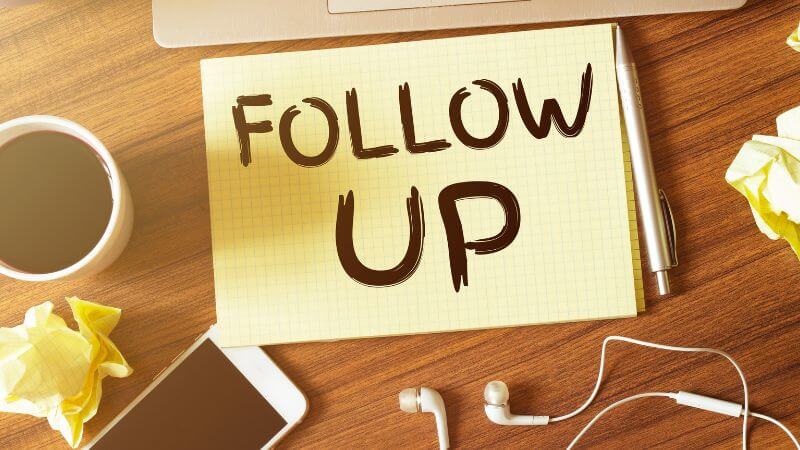 Why should your follow-up message be the same if every solar client is different?
Lead creation alone cannot help businesses expand or increase their sales and profits if there is no lead nurturing. Building great relationships with each client is a key component of lead nurturing in order to win their loyalty, dedication, and trust.
There are multiple tactics today, particularly throughout the worldwide epidemic, that can only be effective if they are personalized and offer the right signals to the right clients. Notably, 60% of marketers believe that lead conversion success depends on personalization.
Additionally, nearly 70% of consumers anticipate personalized interactions with businesses or brands. And over 76% of people become angry when they don't get personalized communications.
Here is how customizing your follow-up can help you with solar lead nurturing and converting more sales:
It increases customer engagement and also increases the likelihood of solar lead conversions.
You spot their demands by tracking their query behavior, and eventually, you can redirect your personalized follow-ups to meet their needs and expectations.
And finally, it helps build your brand's reputation. When you target customers with customized emails or messages, they are more likely to connect with you.
Check More- How to Get Solar Leads: The Do's and Don'ts
So, what are the best-personalized lead follow-up strategies you can use for amplifying your solar conversions?
The rule is simple. Since every solar customer is different and uses their own unique ways to reach out to solar companies, you need to understand their psychology. And according to that, you can create different content pieces and project them via different mediums so that you can better connect with them.
Use of multiple solar lead follow-up channels
When considering the solar lead-follow-up approach, there are a multitude of options that can pave the way for your efforts and aid you in generating more sales. These are texting, email, phone calls, social media platforms, and multi-channel selling.
However, the response time and success rate of each of these mediums are different. Considering how valuable your time and resources are, we have mentioned some sales follow-up stats below so that you can strategize your actions and shift your focus accordingly.
So, let's dive into them.
Texting
According to a report, potential leads who engage with texting as an initial point of contact have 40% higher conversion rates than those who engage with emails or phone calls. Therefore, it is advisable to prefer texting as the first point of contact.
Moreover, text messages have a 98% higher response rate than email interactions, which adds up to nearly 20%. And not to forget its retention rate of 99%, which is huge.
Email
Contrary to telephoning or trade exhibitions, email marketing initiatives offer a two-times better return on investment (ROI), with 33% of receivers reading emails based on the subject line.
Also, keep in mind that sending more emails to your prospects doesn't increase the chances of their replying. In fact, a single strategically placed email follow-up can multiply the chances of getting a higher response rate than your initial emails. According to an email use statistics report, if your primary emails have an average reply rate of 6%, then your single follow-up can increase it up to 8.5%. which we think are pretty great.
Social media platforms
According to a survey, sales representatives who use social media regularly have 45% more opportunities to close deals than those who do not. This means that 50% more sales representatives meet their quota through social media than through traditional means, making it a more successful sales channel.
Not just that, 98% of sales representatives on LinkedIn achieve or surpass their goals, leaving no donut why solar marketers are taking advantage of social media for lead follow-ups and conversions.
Multi-Channel Selling
According to a HubSpot blog report, comparing sales development agents who use three or more touchpoints to those who only call or email, there is a rise of nearly 30% in MQL (marketing qualified leads) to SQL (sales qualified leads) conversion rates. By simply transferring follow-up emails to sales lead staff in between phone contact efforts, you enhance your odds of reaching them by 17%.
So, now that you are aware of the solar lead follow-up stats of different mediums, you can redirect your efforts accordingly. Also, bear in mind that every approach is different and should be implemented in different stages or scenarios of your follow-up strategy, making one no less important than another.
Building rapport and trust
In order to convert a sure-sure solar lead conversion, building rapport and trust plays a crucial role throughout the process. These are the core foundations of a successful solar marketing strategy. Without building a harmonious relationship with your customer, you can't expect any kind of cooperation from the customer's side.
Also, building rapport is a long and continuous journey. You can't expect it to yield its fruits in a day or two. It is a skill that requires persistent nurturing. But once you have it and know that you have established that foundation of mutual trust and understanding, you can leverage it for the lifetime of your business.
This is how you can build rapport among your qualified solar customers to generate solar sales:
Be a great listener and empathetic towards your customers: The first step towards building a healthy relationship is to actively listen to your customers' needs. Understand what they are looking for. What are their requirements and constraints? And get a good hold of their perspective.
Be empathetic: Next, show empathy towards your customers by eliminating their regional dialect and body language. And if there is a money constraint on the client's side, you can remove this hurdle by giving them a considerable discount as a token of genuine concern.
Use of testimonials: The third thing you can do is integrate customer reviews on your social media profiles. This way, when a customer is looking for your company's credibility, they can be assured of trusted testimonials from your site or social media handles. Again, it boosts building rapport.
Consistency is the key
For any business, the parameter of success lies in its persistent approach and consistent strategies, and the solar business is no longer the exception.
When you are hoping to convert a successful solar lead, it is imperative to get consistent follow-up from your client. Below are the reasons why incorporating persistence into your lead follow-up strategy can yield big returns:
Use of CRM or Google Calendar: Firstly, you can use a CRM (customer relationship management) system if the pipeline of your solar leads is huge. You can set reminders for every follow-up you have taken or need to take. This will help you keep tabs on all your important follow-ups and transactions and will keep you organized with no fuss. And if you are just a beginner and don't have so much work on your hands, you can use the Google event calendar to set the time and add notes so that you never miss a potential lead.
Provide value with each follow-up: Always, always provide persistent value with each of your follow-ups to your customer. Your approach should be better and crisper with every step. Also, considering the changing market scenarios, try to keep your customers updated on them. This will create a different level of credibility among them.
Don't be pushy: The trickiest part of taking solar lead follow-ups is not being pushy. We have already covered the follow-up interval pointers earlier. Lock that in your mind, and just calmly and persistently lead the follow-up strategy with your highly professional sales staff.
Check More- How to Qualify Solar Leads Quickly and Effectively?
Case studies of solar companies that have implemented best practices
There are countless solar companies that have taken different approaches to making their solar projects a success. We are mentioning a few, as the list is endless.
Ms. Ku-Hsiu Hsiung, the project director of the Industrial Technology Research Institute (ITRI), has started spreading the word about the importance of the solar PV distribution program and the solar PV policy.
Mr. Daniel Lee-Wai Ying, one of the leading solar project holders in China, talked about the importance of solar PV on climate action, which would contribute to sustainable living.
Then there is Mr. Gukhan, who talked about the electrical load challenges and their regulatory requirements.
All these approaches have one thing in common: they addressed the concerns, understood their customers' growing needs, and educated them with the right solution.
Final Thoughts: Don't be afraid of solar lead follow-ups!
The only motto that can take you one step closer to successful solar lead conversion is "Never ever be afraid of follow-ups."
Many times, solar sales staff give up before they make their first point of contact. As earlier mentioned, the reasons are many: there is a fear of rejection, being projected as a spammer, or being seen as too pushy, which ultimately scares them to not take the next step.
But this is not how things work. While working on the sales generation team, you need to be ready to hear "No". In fact, it is not a bad thing. Take it as a learning experience and try to figure out how you can convert your prospect's solar lead into a final conversion.
A recap of how to improve solar lead conversions
To give you a precise picture of the successful solar lead follow-up strategies and recommendations, we are briefing all the points:
Be quick in your response time to your customers' queries.
Understand your prospects and personalize your follow-ups accordingly.
Try to use different lead follow-up channels like texting, emails, phone calls, social media, or MQL to the SQL department, whatever works for you.
Lay a foundation of trust among customers and build a harmonious relationship with them.
And finally, be consistent in your follow-ups.
You have heard of this phrase: "Don't fear failure; it is the first step towards your success". Also, it is extremely important to understand that you should not waste a lot of time on a single lead. You need to be very smart in your moves, and by following the aforementioned guidelines, you can convert lead follow-ups into successful conversions and generate revenue for your solar company.