How much do solar leads sell for? If this question is popping into your head, you are in the right place. No matter what category of solar leads you are looking to buy, we will tell you the exact cost involved to make your purchase decision super easy. Let's begin!
Lead generation is the key to keeping your business moving while standing out in the competition. Some companies generate leads with in-house marketing techniques and others buy solar leads to get rapid results. If you are thinking of buying solar leads, you should know the actual cost.
The cost of solar leads concerns every solar installer as they are expensive. But if you have the right knowledge and awareness of different solar lead categories, things will be a lot easier for you.
We aim to guide you through the complete cost of solar leads. With an overview of the solar lead types, cost, per-lead pricing, factors affecting the cost, and things to consider before buying one can make the process easy and fruitful.
Let's get started!
Types of Solar Leads To Buy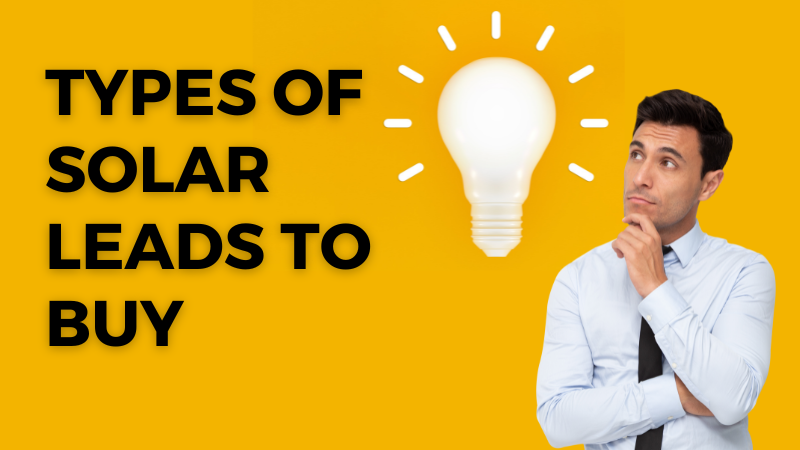 Solar business is a highly rewarding and rapidly growing industry. However, this field is fiercely competitive as every company is trying to pull the customer to their brand. Therefore, understanding the different types of solar leads is crucial before purchasing them.
Every lead is different from each other and their purpose and process also differ. Each of them has its own set of features and advantages. Understanding them each will help you which type of solar lead you really need for your company.
Here is the list of main types of solar leads for a solar business, you can pick what suits yours.
Pre-set Appointments
Live Call Transfers
Aged Leads
Real-time Shared Web Leads
Exclusive Web Leads
Pre-set Appointments
Pre-set appointments have a high chance of converting into customers. It focuses on booking appointments for qualified leads. It is the final move in the entire lead generation process, where the sales team encourages prospects to sign the deal by telling them about your business offerings and answering their queries. Buying pre-set appointments puts minimal pressure on your sales team as they don't need to be nurtured.
However, the company from where you buy pre-set appointments will not provide you with the details of your potential customers as they are the ones who are doing the heavy work. Pre-set appointments are the best for solar businesses as they can generate huge ROI.
The cost of Pre-set appointments falls between $150 to $250 per lead.
Live Call Transfers
After pre-set appointments, live call transfer is another good option for solar companies to increase their conversion rates. Live call transfers are the prospects who have shown interest in solar panel installation or looking for a trustworthy installer like you.
These are people who are pre-screened and are looking for a reliable solar panel installer to initiate the solar project. Once you buy these leads, your only work is to contact them, set suitable appointments, and make them your customers.
Live Call Transfer leads will cost you between $100 to $200 per lead.
Aged Leads
Similar to the name, aged leads are the prospects who had shown interest in solar panel installation quite a long time ago. Aged leads are the cheapest solar leads and have around 2% closing rate. So, if you cannot buy expensive solar leads like pre-set appointments and live call transfers, you can save a few bucks and purchase aged leads.
Buying aged leads comes with an advantage. As the investment in solar installation is huge, people take a lot of time to decide and take the final purchase step. This period can range from a couple of months to a year.
You can make these leads work in your favor if the prospects are looking for solar installers like you. These leads can give you a good opportunity to make a decent ROI.
The cost of aged solar leads ranges from $1 to $15 per lead.
Real-time Shared Leads
As the name suggests, real-time shared leads are sold to multiple solar businesses. As they are shared with many companies, this type of solar leads is very competitive in the market. If you buy real-time shared leads, one thing is assured these leads are interested in solar installation. However, you will not be the only one who will be pitching to them.
More than one solar company is attempting to reach those prospects to convert them into sales. So, buying this type of lead is fiercely competitive.
The cost of purchasing real time shared lead ranges between $5 to $20 per lead.
Exclusive Web Leads
Exclusive leads are your potential customers who have shown interest in solar panel installation. Lead generation companies use multiple marketing strategies and techniques to generate exclusive web leads. One aspect that differentiates exclusive web leads from other on our list is that it is sold to companies only once in a lifetime.
Exclusive solar leads are sold to one buyer. Other than the buyer, no other solar company has access to these leads. As these leads are less competitive, the chances of conversion are higher.
The cost of exclusive web leads falls between $30 to $100 per lead.
How Much Does Solar Leads Cost?
Depending on various factors, the average lead price varies greatly. Many aspects impact the price of leads in different states. Some lead generation companies offer $30 per lead whereas others charge $100 or even $300 per lead.
The following pointers will help you understand why the price per lead differs.
Type of leads you choose.
Quality of solar leads. When a customer connects with you to obtain solar solutions it is an organic lead. If you purchase them, leads are generated with the help of different promotional methods including email marketing which requires more cost.
The number of companies who are accessing a particular solar lead.
Local incentives and charges for electricity in each state have a great impact on choosing solar installation.
The number of solar businesses operating in a locality.
Customer needs i.e. residential solar panels or commercial.
Why You Should Buy Solar Leads?
There is an incredible growth in demand for solar due to energy efficiencies and access to local incentives that come with its installation. However, finding these qualified leads is way more challenging than you might think. Using traditional marketing methods to drive organic leads and qualifying solar leads takes a lot of time. However, being in such a competitive market, you cannot afford to lose a single prospective customer. If you lose them, your competitors will snatch them away.
You need to gain maximum leads to close more deals. If you buy solar leads, you get access to people's contact details who have shown interest in obtaining solar solutions. Not only this, there are many reasons to buy solar leads which are:
Save huge time
Sales is a bottleneck that keeps your solar business from growing. You can buy leads from a company and use that time to manage other vital aspects of your business that yield results.
Stand out in the competition
Competition is growing in the solar industry and you need to double down on your unique offerings to gain the edge. Buying solar leads is best for your company to gain customers, especially if are trying to make your foot stronger in the market.
Improve company strategy
Gaining access to people info who are interested in obtaining solar solutions also gives you insight into the market. You get to know what type of people have shown interest in solar installation. This way you can improve your existing company strategy.
Boost Profits
Buying solar leads gives you quick access to prospects who are highly interested in solar or looking for a reliable partner for installation. This way you can earn many customers, install maximum solar panels, and boost your profits.
Get More Referrals
When you gain more customers, you satisfy them with your expert solar solutions. More satisfied customers mean they will refer your brand to their knowns who want to install solar on their rooftops. So, it is a win-win situation.
Streamlines Business Model
Buying solar leads puts minimal pressure on you and your sales team. This way you can focus on other business activities that need your attention. This helps you streamline your business model and focus on those parts on which your solar company is best i.e. panel installation.
What Factors Affect the Solar Leads Pricing?
You might find it confusing that the cost of lead varies from lead to lead and company to company. Several things are factored in when the actual cost of solar leads is determined including:
Geographic Location
If you are operating in a locality where multiple solar companies are competing for solar leads then the cost of solar leads goes to the higher side.
Lead Type
Residential solar leads are comparatively more reasonable than commercial ones as the investment cost is huge and so is the profit margin for solar installers.
Management Fee
If you are paying a company to manage your solar marketing campaign. Even if you manage your campaign yourself there are some associated costs. Therefore, management cost is factored in while calculating the cost per lead.
Cost of Software
Whether you are following organic methods to generate leads or purchasing them from a third party to get quick results, some tools such as CRM etc are required to implement and measure the strategies.
Cost of Content Production
To expand your reach, you will need great content to entice your prospects towards your brand. Without good content inbound marketing doesn't happen, the cost of lead is calculated after factoring in the payment that goes to creators, designers, and video editors.
Promotion Cost
Creating content brings value when it goes out in front of your prospective customers. Without effective SEO for your solar companies, your brand doesn't get highlighted and fails to attract customers. So, the promotion cost is also considered before quoting a price for a solar lead.
Things to Consider Before Purchasing Solar Leads
By now, you must have decided which type of solar leads suits your business. We will now understand the process of purchasing these leads to ensure maximum ROI.
Before purchasing your preferred solar leads, you need to consider the following factors:
Learn the company's process: Ask all the questions related to the quality of leads they are providing. Try understanding their process, lead type, chances of conversion, and overall outcome.
Delivery process: Ask them how they will deliver the leads to your company and when you can access them.
Comparing: Compare and analyze what amount you are investing in the purchase and the value you will get. If the cost and outcome seem worthwhile then go for it.
Immediate action: If you buy shared leads you need to reach those prospects before other solar installers. Develop a strategy that makes sure you are the first to reach them. Ensure that you call shared solar leads within 5 minutes once you have access to their details.
Understand the next course of action: Ask the lead provider about the next course of action if you don't get the expected results or come to know the quality of the lead is poor. Analyze how they answer these questions. If it is satisfying enough move ahead, otherwise no!
Check reviews: You need to gauge the reviews of the lead generation company you are planning to work with. Check what their former clients are saying about the quality of their service. It will help you check the reliability of the company.
Frequently Asked Questions
What are solar leads?
Solar leads are people who have shown interest in solar panel installations for their home or commercial property. These leads are generated from marketing campaigns, referrals, etc.
Why solar leads are so expensive?
Solar leads are expensive as they are qualified and are interested in obtaining solar solutions. However, it saves a lot of money and time in nurturing those who are not interested in solar installations.
What is the cost of solar leads?
The average cost of solar leads falls between $30 to $300 depending on the type of lead you choose to buy for your business.
Are solar leads worth the cost?
This answer depends on your solar company's needs and situation. If you have a stellar sales team that can close the deal after investing in solar leads, then your purchase is definitely worth it.
How is the cost of solar leads decided?
Many factors come into play when deciding the cost of solar leads such as geographic location, type of lead, management fee, software cost, content production cost, and promotion cost.
Are solar leads worth it?
Solar leads have a conversion rate of 5% to 20%. It is a great investment option for solar businesses where they get higher ROI.
Why you should buy solar leads?
Buying solar leads comes with several benefits for companies. It increases your conversion rate, maximizes efficiency, improves your business model and marketing strategies, expands your reach, and much more.
The Bottomline
We hope you have got your answer to 'How much do solar leads sell for and all the related queries tagging along in your brain. Now you have a basic understanding of solar leads cost, factors affecting per lead price, why buying solar leads is a good deal for your company, and things to consider before purchasing to access the best solar leads.
No matter which type of solar lead you choose, give your best shot to convert them into your customers and design the finest solar sales proposals to drive maximum sales to your door!